FANSTASTIC FALL COLORS IN VAIL, COLORADO – VACATION GETAWAYS
The color way of autumn in Colorado is legendary. Each September, for just a few short weeks, the brilliant emerald vertical landscape of our Rocky Mountains suddenly begins to explode into blasts of gold. The regal combination of statuesque verdant evergreens intermixed with shimmering golden aspen leaves is a sight to behold.
If you're looking for a fall getaway, Vail, Colorado is one of the Rocky Mountain's best resorts for soaking in the color. Luxuriate in the full effect of this dramatic seasonal reset on a lingering old-fashioned road trip along one of our regions scenic byways, whether by car, motorcycle or road bike. There are dozens of trips, short and long, that begin just outside your Vail, CO doorstep. Here are 5 of our favorite not to be missed drives for fall:
Red and White Mountain
(Piney River Ranch, Piney Lake and beyond)
This is a beautiful recreational playground right out Vail's backdoor. Accessed from Red Sandstone Road via Vail's North Frontage Road, this easy 11 mile drive up gently sloping gravel roads leads to Piney Lake and miles and miles of SUV, mountain bike and hike- friendly wilderness trails. The incredible vistas at the top offer expansive views of Vail Mountain in all of its fall color splendor. This is also the home to Piney River Ranch, were you can enjoy a picnic lunch or a BBQ lunch from the lodge through September 30. A favorite spot for overnight "fancy camping" (they have several cabins and yurts on site for overnight rental) you can plan your whole weekend around this favorite fall road trip. The drive up and back to Piney is itself a spectacular fall outing, but if you want more, and you are equipped with a high-clearance SUV, head west on F.S. 734 toward Red & White for an extended fall backcountry driving adventure.
Vail-Battle Mountain Pass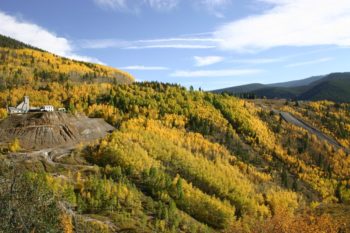 (Redcliff / Camp Hale / Leadville/ Copper Triangle) Just few miles west of Vail is the charming, historic town of Minturn. Take Highway 24 S through Minturn up the winding, breathtaking pass toward your first stop, quaint and mellow Redcliff, CO. This is a designated scenic byway with plenty of shoulder pull-offs for photographs. Redcliff is home to locals' favorite Mango's Mountain Grill, an eclectic eatery serving up the best in fish tacos, Margarita and live entertainment. Their rooftop deck is a perfect place to relax and soak up some Indian summer sunshine and brilliant views. From there, route options abound to loop back to Vail via Shrine Pass Road (a 10+ mile, smooth-graded gravel road). Hiking at the top of Shrine Pass opens up huge views of Copper Mountain, the Gore Range, Mt. of the Holy Cross. If you have more time, continue up Highway 24 from Redcliff toward Tennessee pass and historic Camp Hale, where specially trained 10th Mountain Division troops trained for mountain combat during WWII. Continue toward Leadville and the "Copper Triangle", which loops around from Leadville to Copper Mountain, then a quick 20 minutes on I70 back to Vail.
Brush Creek Road
(Eagle, Sylvan Lake, Crooked Creek Pass) About 30 miles West of Vail on I70 is the historic town and county seat of Eagle, CO. South of Eagle, take Brush Creek Road, a lovely, bucolic snapshot of the Old West with beautiful ranches along a lush creek bed-lined valley. The surrounding rust-tinted brush and golden cottonwoods serve as a backdrop for green pastures and grazing livestock. This is the gateway to the Sylvan Lake Park, 16 miles from the beginning of Brush Creek Road. The fork before Sylvan Lake to Yeoman Park is the route to the kid-friendly exploration-filled Fulford Caves. Another beautiful option in the vicinity is Brush Creek Road to Thomasville Road to Crooked Creek Pass, a beautiful elevation gain with incredible vistas of fall color changes.
Colorado 131-Colorado River Road
(Wolcott, State Bridge)
West again on I70- to Wolcott, the start of the incredible scenic Highway 131 journey up and over rolling landscapes. A perfect 2-hour loop takes you up 131 past State Bridge, a mecca for music and river-loving locals with live performances each weekend at the State Bridge Lodge. Continue and hang a left onto County Road 30, a beautifully graded 20 mile stretch of gravel road connecting 131 and the scenic Colorado River Road. Left onto the Colorado River Road and enjoy such landmarks as the stoic new white structures of the Roundup River Ranch and 50 year-old Anderson Camps. This will bring you back to the Dotsero entrance to I70 and a 35-minute trek back to Vail.
Independence Pass
(Vail-AspenVail) Drive I-70 West through Glenwood Canyon early in the day. It's a an incredible feat of engineering to witness how I70 was expanded into 4 lanes through the canyon. An hour later arrive in eclectic Glenwood Springs, at the confluence of the Colorado and Roaring Fork Rivers and home to the world's largest hot-springs pool. From here hop on Hwy 82 towards Aspen, an interesting hour-long journey to this world-famous mining town turned celebrity ski haven. Take a nice long lunch in Aspen at one of dozens of amazing dining options nestled amongst some of the best shopping, hiking and people – watching in Colorado. Back in the car to continue on Hwy 82 over Independence Pass, stopping for a look at the ghost town of Independence on the right. At the bottom of the pass is beautiful Twin Lakes resting in the shadow of 14er Mt. Elbert. Continue on to Leadville, Colorado's highest incorporated town
and full of old-western flair and hospitality. From there, it's only 35 miles back to Vail on Hwy 24. This quintessential Colorado fall day-trip highlights some of the best scenery in Colorado. This drive can be done in the order listed or the reverse, it's beautiful either way!
Simba Run Vail Condominiums offers two-bedroom condo rentals year-round in the heart of Colorado's #1 ski resort, Vail. Book your room now or call us at (800) 746-2278. Find the best lodging deals in Vail by checking out our specials. Join us in Vail, CO for an gorgeous and quite fall!