FROM RELAXED TO REFINED, ENJOY DINING AT NEW RESTAURANTS IN VAIL, COLORADO
Simba Run Vail Condominiums, one of Vail's premier lodges, welcomes the Spring Ski Season with a roar! Vail Colorado's incredible snow, bluebird skies, and sunshine, and several new phenomenal restaurants to try in Vail, Lionshead, Avon, and in Beaver Creek Resort, you won't want to leave.
The 10th – Mid-Vail, on Vail Mountain
Vail's newest ski-in – ski-out restaurant, the 10th is located in Mid-Vail at the base of the Look Ma ski run. Warm, cozy and very inviting, you'll no doubt enjoy the breathtaking views of the Gore Range as you warm up with a bowl of Chef Michael Wade's caramelized onion soup with brie or the spicy lamb chili and wood-roasted mussels. With appetizers priced from $7.00 to $18.00, you won't feel like you lost your wallet on your last run! Kids and adults will enjoy the fresh brick-oven pizzas, traditional caesar or cobb salads and the Angus burger. If you're in the mood for a heartier entrée, try the 10th's veal meatloaf, the elk Bolognese pasta or the pheasant and heritage chicken pot pie. Entrees range from $19 to $26. So ski on into the 10th and enjoy lunch without having to take your ski boots off! You'll be glad you did! Reservations can be made by calling 970-754-1010.
Elway's Vail at the Lodge At Vail, a Rock Resort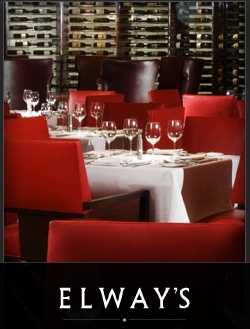 What was once the Wildflower in Vail is now Elway's Vail. The hand painted wildflowers on the walls, the bright yellow upholstered chairs and the garden/patio ambiance have all been replaced with natural wood, raw steel and light stone. The transformation is a hip and stylish 21st century environment. The cozy fireside dining area is perfect for enjoying one of the restaurant's USDA prime steaks or fresh seafood and shellfish that Elway's is known for in the restaurant's two Denver locations.
Other signature Elway's items sure to please are the Colorado rack of lamb, grilled King Canyon buffalo ribeye and the incredible Smash Burger (a Denver-based company and hometown favorite). Signature side dishes include king crab fried rice, brussels sprout hash and creamed corn. Appetizers and lighter items include John's Salad with house made green goddess dressing, charred red pepper soup, dungeness crab cakes and lamb chop fondue. If you haven't tried the fondue, you must. Out of this world! The extensive wine list – 350+ bottles — is the perfect complement to your meal, whatever you may choose!
In addition to the ambience, Elway's also offers a great après ski location – steps from the Vista Bahn. The après ski menu has such offerings as coconut-battered shrimp, steak tacos and shrimp, lobster or crab cocktail or Smash Burger sliders. With a unique variety of incredible cocktails and beer, Elway's is a great place to call it a day!
Elway's Vail is open for après ski from 2:30 p.m. daily with dinner service starting at 5:00 p.m. Reservations can be made by calling (970) 754-7818 or online at www.Elways.com.
Matsuhisa in Solaris in Vail Village

We still don't know what was better at Matsuhisa: the view or the food. So we declared a tie.
Matsuhisa, conveniently located in the Solaris building, boasts phenomenal floor to ceiling views of Vail mountain and in true Nobu Matsuhisa fashion that he is known for around the world, "exceptional fusion cuisine blending traditional Japanese dishes with Peruvian & Argentine ingredients."
The menu is divided into 5 categories: salads, entrees, soups and noodles, tempura and last but definitely not least, desserts (the banana coconut spring roll is to die for). But being a restaurant in Vail, one with a famous name, there definitely is something that everyone will enjoy on the menu. And better still, all dishes are served family style – so you can try a little bit of everything!
For starters, you've got your standard favorite, edamame ($5). If you're in the mood for a salad, the shiitake salad with spicy lemon dressing ($15), is a blend of amazing flavors and oh so satisfying. You can't go wrong with any of the sushi and sashimi offerings at Matsuhisa. Since you're here, you should do yourself a favor and give them both a try. The specialties on the menu include Japanese eggplant with miso sauce ($10), shrimp or scallops or lobster with wasabi pepper or spicy garlic sauce ($21, $26, $34). Although seafood seems to dominate the menu, there is a beautiful filet mignon for the landlubbers! The sea bass dishes – all of them – are scrumptious. If you're really looking for the ultimate food experience, the "Omakase" is, "the most complete way to experience the essence of Nobu Matsuhisa's dishes" ($100 to $150 per person).
This is a lot of food and well worth every penny. We hope you enjoy Matsuhisa as much or more than we did! Matsuhisa serves dinner nightly from 6:00p.m. Located in Solaris Vai1, 141 East Meadow Drive,Vail. For reservations, call 970-476-6628. Or visit www.matsuhisavail.com.
The Metropolitan – Beaver Creek Resort
So you want to spend a day in Beaver Creek Resort with the family but don't know where to begin for breakfast, lunch or après ski? Look no further than The Metropolitan (or the Met), located in the St. James Place at the east end of Beaver Creek promenade. John Shipp, owner of the Dusty Boot in Beaver Creek and Eagle Ranch, has finally brought breakfast to the resort! Start your day with a hot cup of Colorado's own Dazsbog coffee and a breakfast menu that is sure to get your blood pumping for under $10.00! Breakfast sandwiches include bacon, egg and cheese and the "The Met," fried eggs, chipotle aioli, applewood bacon and pepperjack cheese served on a toasted croissant. The espresso chocolate chip muffins will surely tingle your tastebuds! A variety of fresh fruit, yogurt, steel-cut oatmeal and assorted pastries are also available.
For lunch and into the evening hours, the Met boasts a tapas menu that is second to none. Fifteen to 20 different tapas are offered and Chef Michael Bickelhaupt uses only the freshest and local ingredients. Tapas prices are from $5.00 to $25.00. Some of the chef's tapas creations have included seared duck breast and nicoise salad with a duck sauce and a braised leg of lamb with piquillo potato gratin and lamb sauce.
Apres ski at the Met is a crowd pleaser. The Met boasts one of three Enomatic wine dispensers in the state. The Enomatic allows you to choose from 16 wines – 8 white, 8 red – with the swipe of a wine card. Perfect temperature, perfect pour.
During the month of March the Met will host a wine flight and tapas tasting every Monday at 6:00 p.m. This will include three wines paired with three tapas for only $30 per person. This event is not to be missed! For more information, call (970) 748-3123 or visit www.themetbc.com
Cima, Westin Riverfront Resort & Spa, Avon
If you're deciding whether to venture out of the Vail town limits for lunch, dinner, après ski or Sunday brunch, Cima, located in the Westin Riverfront Resort & Spa at the base of Beaver Creek, is well worth the short drive. Cima, meaning "peak" or "top" is a contemporary Latin kitchen opened by world renowned chef/restaurateur, Richard Sandoval. All dishes at Cima are prepared with fresh market produce, sustainable seafood, grass fed meats and specialty products from local purveyors.
Enjoy live music Tuesday through Sunday during Cima's apres ski from 2:30 – 6:00. Signature cocktails and Latin small plates start at just $5.00. Amazing food at a price you just can't beat.
Lunch and dinner dishes explode with flavor! you must try the seafood ceviche or the the chicken empanada for starters. The salmon flatbread and chipotle chicken udon noodles are fabulous as are the fish tacos and open faced burger. The wagyu beef short ribs melt in your mouth. Colorado lamb shank with Peruvian potato, aji Amarillo, preserved tomato and cucumber-yogurt sauce takes lamb shank to an entirely new level as does the jidori chicken breast with rutabaga, bok choy, pomegranate and ginger vinaigrette. Soups and salads are also included on both lunch and dinner menus if you're looking for lighter fare. There is definitely something for everyone on this menu!
Cima's hours are 11:30 a.m. to 10:00 p.m. Latin Sunday Brunch Buffet is served from 7:30 a.m. to 2:00 p.m. with live music from 11:00 a.m. to 1:00 p.m. For reservations call 970-790-5500. Or check Cima out online at www.richardsandoval.com\cima.
Enjoy spring in Vail! We hope you'll take the time to enjoy the restaurants our beautiful valley has to offer!
We look forward to seeing you soon at Simba Run – offering 2 bedroom, 2 bath condominiums rentals near Lionshead and Vail Mountain. Vail's Official Headquarters for Family Fun! Call now for your reservation – 1-800-746-2278 or book online at reservations.simbarun.com.
.